Philippines air strikes: Many flee Mindanao bombing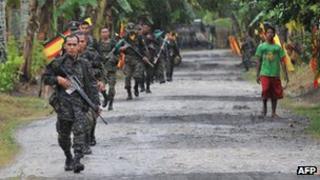 Thousands of Filipinos have fled an army offensive against Muslim guerrillas and criminal gangs in the south of the country.
The armed forces said they had launched air strikes for a second day on what they called a renegade faction of the Moro Islamic Liberation Front (MILF).
More than 10,000 people fled homes in three remote towns in Zamboanga Sibugay province, officials said.
Spokesmen said troops had encountered heavy resistance on the ground.
More than 20 soldiers have been killed in the fighting in recent days, with President Benigno Aquino under pressure formally to suspend a ceasefire agreement.
AFP news agency quoted MILF rebels as denying they were sheltering lawless elements, and reaffirming their commitment to peace talks.
The group has been involved in sporadic peace talks with the government since 2003 and has agreed a ceasefire in 2008.
'Streams of people'
About 10,800 residents have fled three towns in Zamboanga Sibugay on Mindanao island, officials say, as hundreds of troops and police, bomber planes and naval gunboats attempt to flush out about 120 holed-up gunmen.
Just to the south, a further 6,000 villagers had fled from al-Barka and outlying towns in Basilan island, Associated Press news agency quoted an official as saying.
"We have monitored streams of people moving to safer areas, away from the conflict zones," Adriano Fuego, head of the regional civil defence office, said according to Reuters news agency.
He said many of the displaced families were staying in schools and government buildings and appealed for food, water and other supplies.
But soldiers were encountering heavy resistance, security spokesmen said.
They said two soldiers had died along with six gunmen on Monday.
Mr Aquino says the current military action is aimed at those behind the deaths of 19 soldiers killed on the island of Basilan last week, and three others who died over the weekend, along with five plantation workers.
MILF has distanced itself from the armed band currently being targeted by the military.
The group's spokesman Von Al Haq urged an end to the offensive, saying it was displacing civilian supporters of MILF and endangering the peace process, AP news agency said.
Fighting in the southern Philippines has been continuing for more than 30 years and has cost tens of thousands of lives.
Another group, the Islamist militant Abu Sayyaf, has continued activities including bombings, kidnappings and other attacks while MILF has been on ceasefire.