Philippine military bombs southern Muslim rebels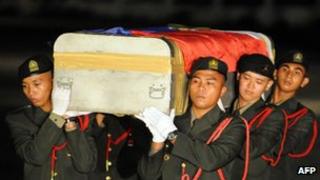 Military forces in the Philippines have carried out their first air strikes for three years on separatist rebel areas in the south of the country.
Two military aircraft launched the attacks in Zamboanga.
The raids follow a recent wave of violence in the region in which 35 people have died
Philippine President Benigno Aquino is under pressure to end a ceasefire with the rebels, but says he wants to find a peaceful solution.
The rebels, from the Moro Islamic Liberation Front (MILF), are known to be hiding in the area which was attacked by the military.
However, army officials say they were only targeting a renegade faction of the group.
"I would like to stress the rebels we are after are operating outside the control of the MILF leadership," a military spokesman, Lieutenant Colonel Randolph Cabangbang told the AFP news agency.
The security forces say they have been surrounding the faction in a remote village for several days.
"About 100 heavily armed bandits are holed up in their bunkers and running trenches," said another army spokesman, Major Harold Cabunoc.
Renewed violence
The MILF has been fighting for an autonomous Muslim homeland in the Philippines, which is a mainly Roman Catholic country.
The group has been involved in sporadic peace talks with the government since 2003 and has held a ceasefire since 2008.
However, renewed violence has flared in October.
Last week, 19 soldiers were killed on the island of Basilan and three others died over the weekend, along with five plantation workers.
Mr Aquino said the military action had been aimed only at those behind the killings and he warned other rebel units not to join in the fighting.
He rejected calls for an all out war.
"It is so easy out of frustration to close the door on negotiations at this time," he said. "If we go down this path, more innocent civilians will be put in harm's way."
At least one government soldier and six rebels have been reported dead as a result of Monday's operations, which included the air attacks and an advance by ground troops.
There were no reports of any civilian casualties.
Officials say many residents of the area fled their homes last week.
Fighting in the southern Philippines has been continuing for more than 30 years and has cost tens of thousands of lives.
Another rebel group, the Abu Sayyaf, has continued its activities including bombings, kidnappings and other attacks while the MILF has been on ceasefire.