Flood complacency evaporates in Bangkok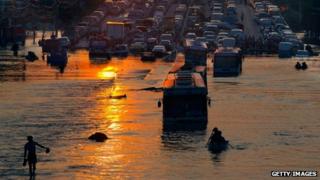 Driving north out of Bangkok is getting more precarious by the day.
Roads that were safe and dry last week are now awash. Ordinary cars can only get so far.
Army trucks now ferry people back and forth along the flooded highways in Rangsit, a district just outside the city limits in the province of Pathum Thani.
Some people are trying to get out, reluctantly abandoning houses to the deluge.
Others are trying to get back in, to check on homes already evacuated and pets they could not take with them in the rush to leave.
Men and women wade through increasingly filthy water, up to their chests in places.
Children are pulled along on lumps of polystyrene, or float past on rubber rings.
Boats, and even a few jet skis, navigate their way along what used to be residential side streets.
Battalions of volunteers still respond whenever the call goes up to help stuff sandbags or deliver food.
The Thai military is at the forefront of the official humanitarian operation, providing transport, reinforcing flood defences, surveying the damage and delivering vital supplies.
They are carrying out orders on behalf of the government. But they cannot be everywhere at once.
Inexorable advance
In local districts the effort often feels ad hoc, lacking clear co-ordination.
This has been a slowly developing crisis, but from the air the scale of the challenge is clear: a third of Thailand's provinces are swamped.
Water glints in every direction as far as the horizon.
The gilded stuccas of Buddhist temples poke above the surface. Red roofs and green tree-tops intermittently breaking the monotony of muddy brown liquid.
In Thailand's inundated central provinces, families have been living rough for weeks, camping out on what little high ground remains.
Many are now dependent on aid provided by local and international organisations.
Sanitation, or rather the lack of it, is an increasing concern, as is the alarming number of crocodiles that seem to have escaped from farms.
Local media are abuzz with tales of reptilian beasts roaming high streets before being caught and displayed for the cameras.
Having initially been assured that the nation's capital would be protected, Bangkok residents are now being told to prepare to shoulder their portion of the pain.
Some northern suburbs are already under water while other districts have been put on alert.
Concrete flood walls are hastily being built around houses. Sandbag fortifications are growing ever higher around banks and offices.
Supermarkets are running low on supplies of bottled water and prices are going up.
Plastic sheeting, water pumps and life jackets are at a premium.
The centre of Bangkok, its commercial heart and tourist landmarks, is still unaffected but there is a distinct whiff of anxiety in the air.
The water is making its way inexorably south towards the sea, and Bangkok lies in its path.
No-one knows which areas might be hit, or how badly, or when. Any lingering sense of complacency is long gone.