Thailand floods: Crisis 'to last four to six weeks'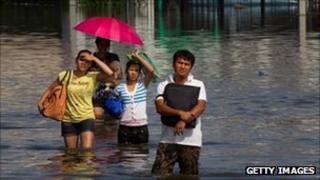 Thailand's worst flooding in decades is set to last another four to six weeks, the country's prime minister has said.
Yingluck Shinawatra warned people in Bangkok to be prepared for flooding there, describing the situation as "extremely serious".
Three months of heavy monsoon rain have left swathes of the country flooded and led to the deaths of some 350 people.
Northern and central areas were worst hit initially but now the run-off is draining south, threatening Bangkok.
Prime Minister Yingluck has used a disaster law to take control of the emergency response, and in her weekly TV address to the nation told Bangkok residents to move their belongings at least one metre (3ft 3in) off the ground.
"Bangkok must open all floodgates to allow the water through," the PM said. "So during this long weekend residents should move belongings, cars and other valuable things to places at least one metre high."
"There is a huge volume of run-off water from the north and we can't effectively block it but can only slow the flow because our barriers are temporary."
The BBC's Rachel Harvey, in Bangkok, says water is continuing to breach barriers in the city's northern suburbs, and although central Bangkok is still dry, the situation around the capital is not getting any better.
The authorities want to drain the water to the east and west of the city, avoiding the possibility of a major torrent running through the heart of the capital.
However, our correspondent says the move is a change of tactic for the government - and no-one seems entirely sure whether the volume of water can be safely controlled.
Ms Yingluck also said the crisis had displaced more than 110,000 people from their homes. The government said the death toll had risen to 356.
Thailand's tourism industry has so far been largely unaffected, with southern islands escaping the flooding. The main international airport is operating as normal and its flood defences have been fortified.