China accuses Dalai Lama of encouraging suicide by fire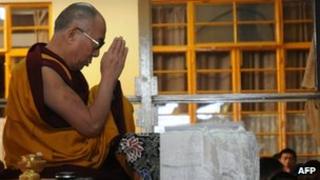 China has again accused the Dalai Lama of encouraging people in ethnically Tibetan parts of China to commit suicide.
It comes after the exiled Tibetan spiritual leader offered prayers for eight monks and a nun who have set themselves on fire.
It is not clear how many of them have died in what is said to have been protests against Chinese rule.
China said the self-immolations were "terrorism in disguise".
China's foreign ministry said the "Dalai group" - a reference to the Tibetan spiritual leader and his followers - had "played up" the protests in south-west China, which have escalated dramatically in recent weeks.
"In the wake of the incidents, overseas Tibet independent forces and the Dalai group did not criticise the cases," foreign ministry spokeswoman Jiang Yu told journalists at a regular briefing.
"On the contrary, they beautified, played up such issues to incite more people to follow suit. As we know, such splittist activities at the cost of human lives is violence and terrorism in disguise," Ms Jiang said.
She repeated Beijing's assertion that Tibetans in China are free to practise their religious beliefs.
Photographs smuggled out of China several months ago appear to show Kirti Monastery monks holding anti-Chinese demonstrations and being confronted by the security forces.
The Dalai Lama fasted and held prayers in their honour, at his temple in the town of Dharamsala, in the Indian Himalayas, surrounded by hundreds of his followers.
Lobsang Sangay, the prime minister of Tibet's government-in-exile, blamed China's "hard-line position" in Tibet over decades of Communist Chinese rule for pushing Tibetans into a "desperate situation".
"Through its propaganda, Beijing shows a different image, but in reality China practises colonialism and systematic destruction of the unique Tibetan culture, religion, language and environment because of which Tibetans have peacefully demonstrated time and again," he said.
Protests 'escalating'
The latest to set herself on fire was a Tibetan nun, Tenzin Wangmo, 20, who died in Aba county on Monday.
Aba county is home to the Kirti monastery, the scene of repeated protests against Beijing's rule. It is located within the Ngawa Tibetan and Qiang Autonomous Prefecture, where more than half the population are ethnic Tibetans.
Seven monks from the monastery have set themselves on fire in recent months. An eighth monk set himself on fire in another part of Sichuan province.
Tibetan Buddhist monks in China say a wave of self-immolations is linked to Beijing's refusal to engage with the Dalai Lama.
China has since jailed three monks accused of assisting in one self-immolation and maintains a heavy security presence in Aba town.
In a statement, Free Tibet director Stephanie Brigden said that unrest in Tibet was "escalating and widening".
"The acts of self-immolation are not taking place in isolation, protests have been reported in the surrounding region and calls for wider protests are growing," she said.
This report cannot be confirmed. Foreign media cannot gain access to restive ethnic Tibetan areas and Chinese state media often do not report these incidents.
Separately, Chinese media say 17 people have been arrested for smuggling guns into Tibetan areas of China from Burma. Correspondents point out that regional unrest in recent years has almost never involved Tibetans with guns.