Shackling trauma of Indonesia's mental health patients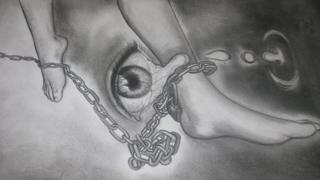 Sukidi was brought to Lawang Mental Hospital, in Malang in East Java, a month ago suffering from severe mental health problems, physical abuse and malnutrition.
He could barely stand and only managed to do so after weeks of rigorous work with physiotherapists at the hospital.
Even with a walking stick, he can only manage to stand on his tip-toes.
"This is standard for patients who have been shackled - muscle atrophy in both legs," said Dr Ariana, a physician at the hospital.
Shackling involves attaching the victim's feet to a piece of wood, preventing them from moving. Some use metal chains on the victim's hands or legs for the same purpose.
Even though the practice is widely condemned, it is used to treat people with severe mental health problems. Many then get depressed and their mental health deteriorates further, with some cases ending in suicide.
For years Sukidi's family shackled his feet because of his problems.
Like many who use such methods, his family comes from a poor background with only minimum access to health care services.
Sukidi was only brought to hospital after neighbours and village officials intervened.
Dr Ariana, who goes by one name like many in Indonesia, is hopeful that Sukidi, who is in his late 20s, will recover some strength in his legs.
"He could barely stand a month ago, now he has started to walk, albeit on tip-toes."
'Shameful practice'
According to the Indonesian Ministry of Health, there are thought to be about 20,000 cases of shackling in the country.
The government has vowed to stop the practice in the next three years, but it is a target that even the ministry admits is "ambitious".
"To stop the practice we must provide adequate services, and that is where we're lacking," said Dr Irmansyah of the ministry's Mental Health Directorate.
Around the country there are only 8,000 hospital beds for patients with mental health issues. About one million people are thought to have mental health problems in Indonesia, according to the 2007 National Basic Survey on Health.
But Dr Irmansyah said there were reasons to be optimistic, including a sense within provincial governments that they needed to tackle the problem.
"To be exposed as a place where shackling is carried out is to be filled with shame. It's the same with malnutrition cases, you can't be proud about it," he said, drawing a comparison with another acute health and welfare problem in Indonesia.
In Central Java province alone, he said, the local government found almost 200 cases in the two weeks after the pledge to stop shackling was announced.
A number of other provinces have followed suit, but it remains hard to predict whether the target will eventually be met.
'No dignity'
Although the campaign is seen as positive, for the victims of shackling it is long overdue.
Anto Sg was repeatedly chained while undergoing medical treatment and alternative therapy for his mental health problems.
Diagnosed with depression, he was treated at different clinics and hospitals in East Java. He was shackled for months, with a metal chain and also with a big rope.
"What I really needed was a psychiatrist and counselling, but instead I got my hands and feet shackled," said the 33-year-old, who is now living in a small municipality in East Java and works in an optician's shop.
At the height of his depression Anto often ran away from home and his family was anxious to find a treatment for him.
"They thought I was mad and the only treatment possible was to trust to the care of the clinic," he said - but that turned out to be a mistake.
With his hands and feet chained, he could not move anywhere. The nurses came to feed him, but he had to urinate and defecate where he was.
He cried all the time, feeling his life was truly over.
"It ruined my dignity or whatever shred of humanity I had left," he said.
He suffered both from malnutrition and tuberculosis, and only in recent years realised that what he had was schizophrenia.
It took about five years to get back to his present equilibrium.
"Had I not been shackled, I might have recovered sooner, without all the misery and nightmares," he reflected.
He now helps build awareness about shackling by drawing black and white pictures that represent his terrible experience.
But Anto is a rare case. Thousands more are thought to remain shackled, buried deep in remote villages around Indonesia.