Malaysia frees Ugandan women in trafficking operation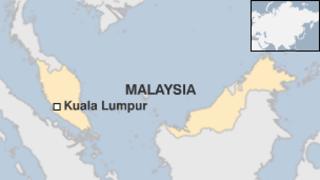 Malaysian police say they have broken up a ring of human traffickers who forced Ugandan women into prostitution.
Twenty-one women, mainly in their 20s, have been released in a sting operation by the police.
They were lured with promises of lucrative jobs, before being sent to China and then Malaysia where they ended up as sex slaves.
The Ugandan women were trapped in an apartment block near Kuala Lumpur.
Over the last three months, they were forced to have sex with customers for 10 hours a day.
The women were beaten and raped by their captors if they tried to refuse. One victim relayed her ordeal to a Ugandan embassy official who posed as a customer.
Malaysian police then put the apartment block under surveillance for two weeks before storming in to rescue the women. Two females were arrested for trafficking.
Malaysia is used as both a transit point and destination country for human traffickers.
The government has often been criticised for its weak enforcement and there are allegations that some of its immigration officers are involved in human trafficking.
That is why Malaysia has been placed on the US government's human trafficking watch list for the past few years.
Police say this latest bust shows that they are serious about tackling the problem.