UN's Valerie Amos assesses North Korea food shortages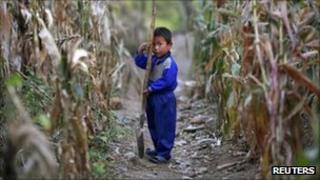 The UN's top humanitarian official, Valerie Amos, has begun a five-day visit to North Korea to assess food shortages.
UN agencies say about six million people in the country are in urgent need of food.
But there is international scepticism about the severity of the crisis, says the BBC's Barbara Plett at UN headquarters in New York.
Donations to UN programmes have dwindled, she says.
Valerie Amos will meet government officials and take a field trip outside the capital, Pyongyang, to look at conditions in two areas among the worst affected by the hunger crisis.
She will visit hospitals, an orphanage, farms and a food distribution centre, saying she is "particularly concerned" over reports about worsening malnutrition among North Korean children, reports AP news agency.
North Korea is appealing for massive amounts of food aid, claiming that a bitterly cold winter and summer floods have worsened chronic food shortages.
A foreign news agency recently allowed to make a tightly-controlled trip to the country reported evidence of alarming malnutrition and damage to some crops.
But there is international concern, especially from the US and South Korea, that the military-led authorities could divert food aid to their own uses, and suspicion that Pyongyang is exaggerating the severity of the crisis, our correspondent says.
The Un humanitarian chief wants to make her own assessment before pushing for a bigger response to a UN humanitarian fund.
Only one-third of an appeal for more than $200m (£130m), launched in April, has been met.