Disgraced S Korean cloner Hwang back with coyote claim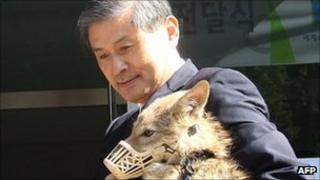 Disgraced South Korean scientist Hwang Woo-suk, who fabricated research on human embryos, claims to have cloned coyotes for the first time.
He handed over eight muzzled coyotes to an animal shelter, in a scene reminiscent of his glory days as South Korea's top scientist.
Dr Hwang said he had developed a new technique to clone wild animals.
He received a suspended prison term in 2009 for embezzlement after he falsely claimed to have cloned human embryos.
He was once a national hero in South Korea, lavished with government funds and the newly created title of supreme scientist.
He was expected to lead the nation in the lucrative new field of biotechnology.
But key parts of research papers published in leading academic journals in 2004 and 2005 were shown to have been fabricated.
Dr Hwang falsely claimed to have cloned human embryos and created a line of human stem cells that led to hope of cures for a range of degenerative diseases.
Scientists around the world were scandalised by the fraud and the professor was dismissed from his post at Seoul National University and stripped of his titles.
A veterinarian by training, Dr Hwang did have real success cloning animals, including the first cloned dog, an Afghan hound puppy in 2005.
His successes led to a wave of patriotic fervour with thousands of people rallying to support him even after the fabrications were exposed.
Now, with the backing of the Gyeonggi provincial government, he has ambitious plans to re-establish himself as a leading figure in global science.