Violence and threats mar Kyrgyz search for justice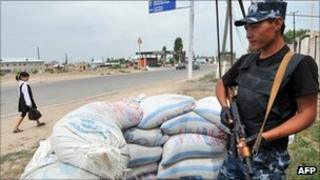 Lawyers and human rights workers in Kyrgyzstan have called for an end to courtroom attacks which have thrown a number of trials dealing with the ethnic violence last year into chaos.
Observers have documented at least three recent cases in which defendants and their lawyers were attacked by relatives of the victims during or after court hearings.
Kyrgyzstan is preparing for crucial presidential elections on 30 October - the first since former leader Kurmanbek Bakiyev was ousted in mass protests in April 2010.
Two months after his removal came violence in the south between Kyrgyz and minority Uzbeks which left more than 400 people dead.
The courtroom incidents highlight simmering tensions that remain in the aftermath of the clashes.
Beatings and insults
A local monitoring group, the Advocacy Centre, said that in one case in Karasuu, a defendant, Dilmurat Khaidarov, who is charged with incitement to murder, was beaten by relatives of the victim.
A group of men followed Mr Khaidarov outside the courtroom and attacked him, leaving him bruised and bleeding.
Mr Khaidarov denies the charges against him and says he protected a number of people and properties during the violence last year.
The head of the advocacy centre, Jenish Toroyev, said the trials were highly emotive, but that did not excuse the attacks.
"I perfectly understand the emotions of those who lost loved ones," Mr Toroyev told the BBC.
"But if you want to have justice done, then nobody should prevent it from taking place in the courts.
"With threats to lawyers, to judges themselves, one cannot expect a fair trial and a correct verdict."
'Hate figures'
Emotions have also been running high at the high-profile trial of an Uzbek community leader, Kodirzhan Batyrov, in Jalalabad.
Mr Batyrov, who has been accused of separatist activities and inciting inter-ethnic violence, is being tried in absentia.
But his defence lawyer has been subjected to a barrage of insults and threats in court. Hearings have had to be postponed because the court did not provide adequate protection for him.
One lawyer who is involved in one of the cases told the BBC how she herself suffered physical abuse.
"I myself was beaten in the streets," she said. "I had to go to hospital and as my colleagues are saying, the prosecution does nothing to prevent this."
Other lawyers who did not want to give their name said they had become "hate figures" simply for doing their job.
Human rights activists say the majority of those prosecuted over the June 2010 events are ethnic Uzbeks, charged with crimes against ethnic Kyrgyz, and that the attacks threaten to deepen divisions and a widespread mistrust in the justice system.
Stones and bottles
International lobby group Human Rights Watch has joined the call for adequate protection of lawyers and defendants.
Researchers have documented how a hearing in the trial of an Uzbek man charged with kidnapping descended into chaos.
Mahamad Bizurukov was in court in a metal cage, as is common practice in the region, when he and his lawyer were repeatedly harassed by members of the alleged victim's family.
Insults were shouted throughout, the alleged victim's mother pulled the lawyer's hair, and when the judge had left the room, a group of women pelted the defendant with stones and plastic bottles.
Police who tried to intervene were also attacked. Asked why they did not remove the women from the court, a policeman told Human Rights Watch that the women would complain about the use of force and the police would be in trouble.
Again the trial as been suspended, with the lawyer fearful to return.
Mr Bizurukov's case attracted attention earlier when his father, who had also been arrested, died in detention in Osh, a case currently being investigated by prosecutors.
Observers warn that the failure of the justice system could make underlying tensions worse.
But a spokesman for the interior ministry, Jenish Ashirbayev, told the BBC that the authorities were trying to tackle the problem by supplying more police and security guards.
"On the orders of the interior ministry and because the court participants asked for it, additional forces have been brought in to provide security," he said.
"We have received a lot of suggestions from lawyers and human rights defenders, and so efforts are being made to provide lawyers with protection," he said.