Freeport Indonesia mine clashes leave protester dead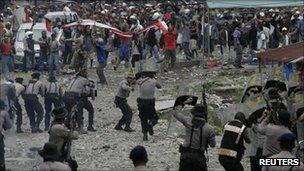 One protester was killed as Indonesian police fired shots amid clashes with striking workers from Papua's Freeport-McMoran mine, union officials said.
Thousands of workers at the remote gold and copper mine have been on strike since 15 September, demanding better wages.
A union official said the firing began when strikers tried to stop replacement workers heading to the mine.
Police said they responded with warning shots after being pelted with stones.
Reports said more than 1,000 workers were involved in the clashes.
A union official, Mesakh Sinere, told the BBC one protestor died from gunshot wounds to his chest.
A police spokesman said seven officers were injured, and a hospital doctor said six protesters had been wounded.
Freeport accused the strikers of trying to intimidate replacement workers and said they should be held accountable.
"We are continuing to work with the local police to deal with these acts of intimidation so that our workers located in Timika can exercise their rights to return to work if they so desire," it said in a statement.
The mine is one of the world's largest gold and copper producers. Since the strike began - the second this year - production has been hit hard.
Indonesian staff at Freeport say they are striking because they want higher salaries, to match those of their counterparts in other parts of Freeport's operations around the world.
The workers want at least a five-fold increase in their current salary of about $3 (£1.90) an hour.
Rights groups have often accused Freeport of stripping Papua of its rich natural resources, without returning anything to the local community, reports the BBC's Karishma Vaswani in Jakarta.
But the American mining giant maintains that it is one of the largest employers in Papua, and without the jobs the mine provides, many Papuans would be far worse off than they are.
Freeport is one of the biggest foreign investors in Indonesia and pays millions of dollars in tax revenues to the central government every year, our correspondent adds.
Related Internet Links
The BBC is not responsible for the content of external sites.