Japan quake: Fukushima children receive thyroid tests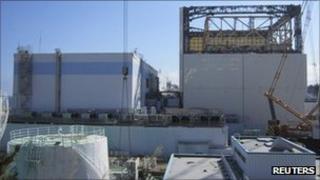 Japanese health workers have begun checking more than 300,000 children living near the Fukushima nuclear plant for thyroid abnormalities.
Parents have expressed concern about a link between thyroid abnormalities and radiation, citing reports of a rise after Chernobyl in 1986.
The Fukushima plant was crippled by the earthquake and tsunami in March which killed 20,000 people.
Concerns remain high over the possible effects of any lingering contamination.
The tests began after an unofficial survey which found that 10 out of 130 children evacuated from Fukushima had hormonal and other irregularities in the thyroid glands, according to AFP news agency.
But those who conducted the survey said they could not establish a link between the irregularities and Japan's nuclear crisis.
Chernobyl
Health officials hope to test some 360,000 people who were under 18 years old when the nuclear crisis began in March, and provide regular follow-up tests.
More than 100 children, whose thyroid glands are more susceptible to radioactive iodine than adults, were checked on Sunday.
Their results will not be made public, but they will receive treatment for any abnormalities.
Japanese authorities say there should be no risk to children if they keep out of the 20km evacuation area.
But residents remain worried, drawing parallels to Chernobyl disaster in 1986, which appears to show a link between thyroid cancer and radiation.
More than 6,000 cases of thyroid cancer have been detected in people who were children or adolescents when exposed to the radioactive fallout after Chernobyl.
Japan's government says the recovery and decontamination effort could take years.