Tokelau to join Samoa and leap forward over dateline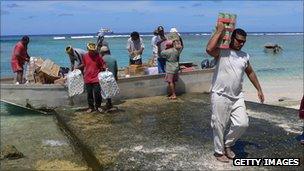 The South Pacific community of Tokelau says it will jump to the other side of the international dateline, following a similar move by Samoa.
A tiny New Zealand-administered territory of three islands, Tokelau lies to the north of Fiji, approximately half-way between Hawaii and the Australian coast.
It lies to the east of the line, putting it 23 hours behind Wellington.
Once it jumps it will be the first part of New Zealand to see the sun rise.
In May, Samoa announced that it would jump from east to west of the line in a bid to improve ties with its biggest trading partners, Australia and New Zealand.
It is due to make the move in December, and Tokelau is likely to switch at the same time.
Jovilisi Suveinakama, general manager of the Tokelau Liaison Office in Samoa, said it was a logical move closely linked to the Samoan decision.
"Samoa is our only window in terms of getting to the outside world so we do see some logic in following through with what Samoa has decided," he told Radio Australia.
He said being on the same timeline would help Tokelau's contact with Wellington.
"We usually have a situation where New Zealand calls us on Sunday, their Monday, and there is nobody in our office and likewise we do call them on our Friday, there is nobody in the office because it is Saturday, so we'll be seeing some very practical benefits in terms of this dateline change," he said.
Samoa is due to jump on 29 December, meaning it will skip 30 December.
Related Internet Links
The BBC is not responsible for the content of external sites.