Aid group MSF ends Thailand operations amid row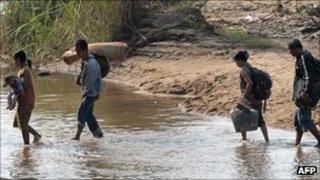 International aid organisation Medecins Sans Frontieres (MSF) is ceasing its operations in Thailand because of a disagreement with the authorities over medical treatment for migrant workers and unregistered foreigners.
About three million migrants, mostly Burmese, are thought to be in Thailand.
At least a third remain without formal documents despite a recent government registration scheme.
MSF said the decision to leave was taken reluctantly.
In a statement MSF (also known as Doctors Without Borders) confirmed what many had anticipated.
After a 36-year presence, during which it has provided assistance to Cambodians fleeing the Khmer Rouge, to Hmong refugees from Laos and to impoverished Burmese migrants, the organisation is pulling out of Thailand.
MSF said that despite months of negotiations with the Thai authorities, it had proved impossible to get permission to provide healthcare to undocumented migrants and vulnerable populations.
Earlier this year MSF was forced to close two projects - a move it said deprived more than 50,000 people of their only access to medical help.
Now it has decided that it can no longer work in Thailand at all.
Despite official efforts to register migrants, between one and two million remain undocumented and are therefore not entitled to state healthcare.