Thailand floods: More than 200 die, temples threatened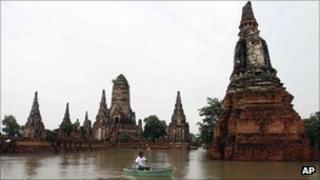 More than 200 people have died in monsoon flooding in Thailand since mid-July, officials say.
More heavy rain is forecast, reservoirs are at full capacity and rivers are overflowing.
Water has inundated 58 of Thailand's 77 provinces, with 25 still badly hit. Huge tracts of farmland are submerged, threatening this year's rice crop.
Water is also lapping at the walls of Buddhist temples in the ancient capital of Ayutthaya, a World Heritage Site.
Officials are struggling to drain water from one of the ancient city's best known temples, Wat Chaiwatthanaram, after a makeshift dyke on the Chao Phraya river was breached.
'Worst ever seen'
The northern city of Chiang Mai, another popular tourist destination, has also been badly hit by floods.
The capital Bangkok has so far been spared, but it is under threat as Tropical Storm Nalgae is expected to bring more rain in the next few days.
Flooding has affected more than two million people.
"The current flood situation is the worst that I have ever seen and it will last until the first week of November," said independent flood expert Royal Chitradon, the director of Thai Integrated Water Resource Management.
The government says it will draft a plan to improve prevention measures and warning systems.
But the BBC's Southeast Asia correspondent, Rachel Harvey, says the new administration is under pressure to get a grip on the current crisis before planning for the future.