South Korea drops plan to deliver aid to North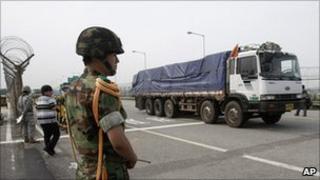 South Korea says it has dropped a plan to send aid to North Korea because it has received no response to its offer.
Seoul had offered $4.7m (£3m) in flood relief after its communist neighbour was hit by storms in June and July.
It had planned to send bedding and baby food, rather than the cement and equipment requested by the North, to ensure the aid was not diverted to the military.
But it said no reply had been forthcoming from North Korea.
"Decisions have been made to end the effort since there was no response from the North since then," a spokeswoman for South Korea's Unification Ministry told AFP news agency.
It would have been the first cross-border shipment of government aid since two attacks last year which the South blamed on the North.
The attacks - the sinking in March 2010 of a South Korean warship with the loss of 46 lives and the shelling of a border island in November which killed four - have left ties between the two Koreas very tense.
But North Korea remains dependent on food aid to feed its people, after a famine in the late 1990s.
Last week, the UN warned that one third of North Korean children under the age of five were chronically malnourished.