Aung San Suu Kyi cautious on Burma reform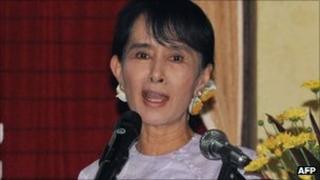 Burmese pro-democracy leader Aung San Suu Kyi has urged the international community to monitor her country closely to see whether recent signs of possible reform are genuine.
Her comments came in a face-to-face interview with a reporter from the BBC's Burmese language service who was given rare official access to Burma.
Ms Suu Kyi said she believed President Thein Sein wanted to reform.
But she said she was not sure how far he was prepared to go.
'Wheels are moving'
There have been recent signs that the civilian-led, military-backed government of Burma is trying to soften its stance and improve its image at home and abroad.
Last week the president suspended work on a hydro-electric dam project, financed by China, to which public opposition had been growing.
Some previously blocked websites have been made available, and there have been a number of meetings between the government and Aung San Suu Kyi.
Some journalists based outside Burma have also been allowed in on official visas, including a reporter from the BBC Burmese service who managed to speak to the pro-democracy leader face to face.
How substantial, he asked her, were these recent moves?
"We are beginning to see the beginning of change," she said.
"And by that, I mean that I believe that the president wants to institute reforms, but how far these reforms will be able to go and how effective these will be, that still waits, still needs to be seen."
Aung San Suu Kyi urged the international community to work together and to monitor events in Burma closely to see whether there was real and sustainable progress.
"I've always said that the more co-ordinated the efforts of the international community are, the better it will be for democracy in Burma.  If different countries are doing different things, then it detracts from the effectiveness of their actions."
When asked whether she thought the wheels of democracy were turning, Aung San Suu Kyi, replied cautiously: "I think I'd like to see a few more turns before I decide whether or not the wheels are moving along."