Typhoon Nalgae batters flood-hit Philippines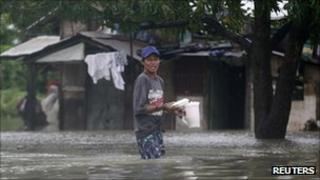 The second typhoon to hit the Philippines in less than a week has been battering northern areas, with ferocious winds and heavy rain.
At least one person died as Typhoon Nalgae hit regions still waterlogged by the earlier storm Nesat, and officials warned of flash floods and landslides.
Nalgae crossed the main island Luzon, but weakened as it headed west toward the South China Sea.
The Philippines suffers frequent typhoons, about 20 a year.
Nalgae made landfall in the eastern province of Isabela on Saturday. At it strongest it was packing winds of up to 195km/h (121mph).
It is now expected to gather strength again over the sea as it moves towards China's Hainan island and Vietnam. Heavy wind and rain is expected in the Philippines for another 48 hours.
A woman was killed in Mountain Province when a landslide engulfed the minibus she was travelling in. A second person was injured.
In Isabela, power supplies were switched off as winds toppled trees and blew off roofs.
In Luna township, a bus carrying 30 people turned over in a rice field but no-one was hurt, the Associated Press reported.
Misery compounded
The storm is taking much the same route as Typhoon Nesat which hit the country on Tuesday leaving at least 52 people dead and thousands homeless.
Tens of thousands of residents have moved into evacuation centres or the homes of relatives or friends, but many areas are still heavily flooded from the earlier storm.
With more heavy rains expected, officials fear that floods resulting from the second hurricane will compound the misery of more than a million people still trapped after the first.
Several towns remain submerged, and the BBC's Kate McGeown in Manila says many residents are still on rooftops awaiting rescue from the first storm.
"I hope the [Nesat] floods will wash out to Manila Bay before the [Nalgae] runoff hits the area," disaster management chief Benito Ramos said, quoted by AFP news agency.
"If the latter catches up to the former, there won't be any rooftops left to see above the floodwaters."
Provincial disaster official Raul Agustin told ABS-CBN television that marooned flood victims were often reluctant to leave for fear their homes would be looted.
"When we send out rescue teams to help them, they ask for food instead," he said.