Kyrgyzstan parliament bans gambling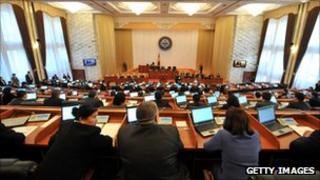 Kyrgyzstan's parliament has voted to ban gambling, meaning casinos will close throughout the country.
The bill was passed with almost no opposition, following repeated warnings from politicians that gambling has become a major social problem.
The new law allows a single gambling zone to be designated, but no location has yet been identified.
Thousands of casino workers took to the streets to protest against the passage of the law.
Opponents said Kyrgyzstan cannot afford the ban as casinos are both a major employer and source of tax revenue.
One of the deputies opposing the bill, Shirin Aitmatova of the Socialist party, said: "You should provide people with the work before prohibiting casinos."
But Baktybek Dzhetigenov of the conservative Fatherland Party said: "We are talking about the fate of many families who are losing everything because of casinos."
Gambling debts
Other gambling businesses and gambling machines will also be outlawed.
It is the smaller establishments that have caused the biggest concern to the authorities.
Residents tell stories of poor people getting into debt or teenagers stealing from home to fund their gambling addictions.
Thousands of casino workers picketed the parliament building in Bishkek as deputies considered the bill.
Protesters held placards saying "Deputies, Stop Destroying the Economy", "By Closing Casinos You Will Lose Millions in Taxes" and "Fight Gambling Barons, Not Casino Personnel".
Hundreds also protested in the southern towns of Osh and Jalalabad.
The law is due to come into force on 1 January, but first has to be signed by President Roza Otunbayeva.
Last week, she called for restrictions but warned that an outright ban would only drive gambling underground.
But correspondents say Ms Otunbayeva may leave it for her successor, with presidential elections taking place next month.