West 'should respond to Burma change', says think-tank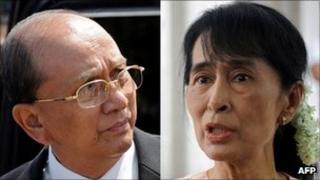 An influential think-tank has urged Western nations to acknowledge and support what it calls the major changes taking place in Burma.
The International Crisis Group (ICG) says there is now a unique opportunity to engage with the country's relatively new civilian-led government.
But some pro-democracy campaigners remain wary of easing the pressure on the Burmese leadership.
They say they want to see concrete signs of genuine reform.
'Not assured'
The ICG says there is growing evidence that the new administration in Burma is serious about reform and Western powers should adapt their policies to reflect the new reality.
The group is calling for a proactive and engaged approach to grasp what it calls this unique opportunity.
The group has long taken the view that sanctions have failed. But there is a new urgency in the tone of its argument now.
The Burmese government has made a number of conciliatory gestures in recent weeks - easing restrictions on the media, allowing a visit by the United Nations human rights envoy and holding meetings with pro-democracy leader Aung San Suu Kyi.
But opinion is divided as to how the outside world should respond.
Some pro-democracy campaigners are urging caution, saying the steps taken by the Burmese government thus far are merely superficial.
Until or unless all political prisoners are released and a process of genuine national reconciliation is under way, they say, Western pressure and sanctions should be maintained.
Perhaps the most influential voice in this debate is that of Aung San Suu Kyi.
In her view there are signs that change is now possible in Burma, but she says "it is not yet assured". Few would disagree with that.