Burma begins swap scheme for cars over 40 years old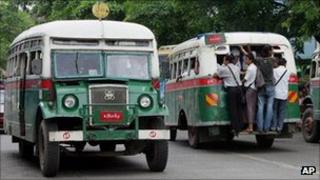 Owners of some of Burma's most antiquated cars have been queuing in Rangoon to exchange their old vehicles for permits to import newer models.
The government programme started with cars more than 40 years old - a common sight on Burma's streets, where people complain they frequently break down.
Until now, only the military and their associates were given import licences.
The price of old cars has risen sharply, as speculators try to buy them up to profit from import opportunities.
There are 10,000 vehicles at least 40 years old registered with the transport department, and more than 8,000 aged between 30 and 40 years, state media reported.
The government plan aims to clear the roads of vehicles that "use too much fuel, cause accidents and traffic jams, and pollute the air," the Myanmar Times said.
The newer, imported cars must have been manufactured after 1995 and cost no more than $3,500 (£2,200).
They will be imported from Thailand, Japan, China, South Korea and Malaysia, officials said.
The deal also includes Burma's ageing transport system, which still relies on buses built between 20 and 40 years ago.
Car owners started queuing on Sunday in order to take part in the government swap scheme, eyewitnesses said.
One participant told the BBC Burmese service that there were about 200 people at the road transport office when he arrived to hand over his old car.