China takes popular TV talent show Super Girl off air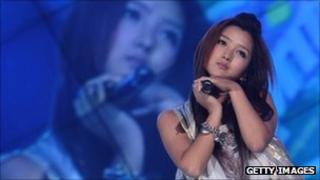 Chinese regulators have told a TV station to stop broadcasting a popular talent show called Super Girl.
The authorities say the programme is too long - although many suspect other reasons.
Hunan Satellite Television, which makes the programme, said it would air shows that promote moral ethics and public safety instead.
Chinese officials often ban programmes they think are too vulgar or not suitable.
The State Administration of Radio, Film and Television (SARFT) told the Hunan station that Super Girl broke time rules for this kind of show.
They should be no more than 90 minutes long, but episodes of Super Girl - in which women of all ages compete in a singing contest - can last more than three hours.
But a senior employee at the station told the BBC that regulators were jealous of the popularity and financial success of Super Girl.
"It is widely believed that the real reason for the ban is that Hunan TV's talent programmes have been extremely popular," she said.
"Sometimes its audience can exceed that of the national broadcaster, something that causes unhappiness in SARFT. It's all down to interests."
Some also suggest that the programme was too low-brow or in bad taste - a reason often given by regulators for banning a programme.
'Moral ethics'
The authorities have just taken a whole channel off air for a month because it broadcast a show that it said had caused a "negative impact on society".
The station, in Shijiazhuang in Hebei province, got into trouble for putting out a drama showing a son abusing his father.
Regulators said they had taken action because it had misrepresented events, magnified family conflict and depicted disrespect to an elderly parent.
The production company involved has had its licence revoked for three years.
Hunan Satellite Television said it would abide by the regulators' decision to ban Super Girl next year and would instead show more uplifting programmes.
"The channel will air programmes that promote moral ethics and public safety, and provide practical information for housework," Li Hao, the station's deputy editor-in-chief, was quoted as saying.