East Timor profile - Leaders
President: Taur Matan Ruak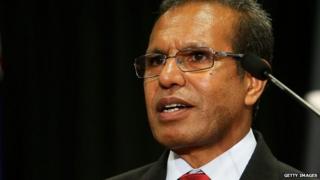 Born Jose Maria de Vasconcelos, the president is better known by his nom de guerre Taur Matan Ruak (A Pair of Keen Eyes), adopted during the Timorese guerrilla campaign against Indonesian rule.
He became chief of staff of the Falintil guerrilla force in 1992, rising to commander in chief in 2000 and then head of the armed forces after independence in 2002.
As armed forces chief General Ruak was careful to maintain good relations with both the government and opposition. He came in for criticism over the armed forces' distribution of weapons to the public during the 2006 civil unrest, and a UN Commission of Inquiry recommended his prosecution. A Timorese inquiry later cleared him of all charges.
He stepped down in September 2011 in order to stand for the largely ceremonial presidency, with the support of Prime Minister Xanana Gusmao. He took office in May 2012.
Prime minister: Rui Araujo
Opposition politician Rui Araujo was picked as prime minister in February 2015 as part of efforts to form a national unity government, following the resignation of independence hero Xanana Gusmao.
Mr Gusmao said he wanted his resignation to enable the transition to a new generation of leaders, although he remains in the cabinet.
He and his ruling CNRT party recommended that Mr Araujo take the helm even though the New Zealand-trained doctor is from the opposition Fretilin party.
Analysts said that bringing Mr Araujo and Fretilin into government was aimed at easing the half-island nation's often fraught politics.
He has cut the number of cabinet posts as a sign of his intention to reduce waste in government spending.
Mr Araujo studied public health in New Zealand and has had an extensive career as a doctor and medical professional. He became health minister in East Timor's first post-independence government, and later also served as deputy prime minister.
Mr Gusmao submitted his resignation as premier after serving as either president or prime minister since East Timor became independent in 2002 following a long struggle against Indonesian occupation.