Detention for road rage teenage son of China general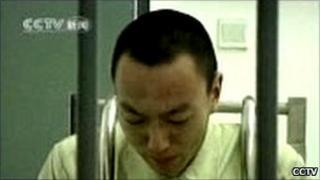 The son of a famous Chinese army general has been given a year in detention after a road rage incident that sparked widespread outrage.
Li Tianyi, 15, is said to have assaulted a couple in the street.
The incident was the latest to focus popular anger on the behaviour of China's elite, provoking hundreds of thousands of angry internet comments.
State media said the teenager had confessed to the crime and was sent to a government correctional facility.
'Don't call police'
Li Tianyi is the son of one of China's best-known army generals, Li Shuangjiang, who is famous for his renditions of patriotic songs on television, reports the BBC's Damian Grammaticas in Beijing.
The teenage boy, who is too young to drive legally, was behind the wheel of a BMW car with no licence plates when he found a middle-aged couple in another vehicle blocking his way in Beijing.
Li Tianyi and a second teenager, who was driving an Audi, leapt from their vehicles and, it is reported, assaulted the couple while shouting at shocked bystanders: "Don't you dare call police".
Many in China saw it as yet another example of the children of the rich and powerful acting as if they were above the law, our correspondent adds.
Last year there was outrage over another case in which the son of a police officer who was driving while drunk killed a university student in a hit-and-run accident.
The man, Li Qiming, was alleged to have dared onlookers to try to sue him, saying: "My father is Li Gang", before driving away from the scene.
His words have become a popular internet slogan signalling discontent with China's ruling classes and used to express the gulf many believe exists between the privileged and ordinary Chinese.
Li Qiming was later jailed for six years.