China sentences four to death over Xinjiang attacks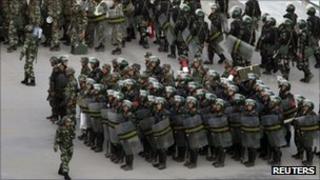 Four members of the Uighur minority have been sentenced to death over attacks in China's restive Xinjiang province, which left 32 people dead.
The men were found guilty of murder, arson and running a terrorist organisation, state media reported.
Two others were jailed for 19 years for their roles in separate incidents in Kashgar and Hotan in July.
China accuses Uighur militants in Xinjiang of waging a violent campaign for an independent state.
China says the incidents were organised terror attacks, but activists say they were anti-government riots carried out by angry citizens against Beijing's heavy-handed rule in the region.
Details of the court action were published on www.tianshannet.com.cn, a news website run by the Xinjiang government.
The trials related to a deadly attack on a police station by a mob in Hotan in mid-July. Fifteen people were killed later that month in Kashgar, in an explosion and when men drove a truck into pedestrians.
"During the trial, defendants all confessed to the crimes alleged by the prosecution," the report said, adding the trial was open and the suspects' legal rights were upheld according to the law.
But the World Uyghur Congress based in Germany has said the men were beaten and deprived of sleep and told their families would suffer if they did not admit guilt during the trial.
These claims were dismissed by the Chinese government as "groundless".
Since the violence, China has deployed more police counter-terror units and stepped up what was already tight security in Xinjiang.
Almost half of Xinjiang's residents are Uighurs, Turkic-speaking Muslims with cultural and ethnic links to Central Asia.
Many complain that large-scale migration of Han Chinese workers from the east has cost them jobs and is eroding their culture.
China has invested heavily in Xinjiang and the region's rich oil and gas deposits are vital to its booming economy.
Two years ago, tensions between the two communities erupted into ethnic violence that left almost 200 people dead.