Freeport mine strike in Indonesia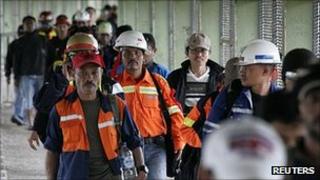 Thousands of workers are staging a month-long strike at one of the world's largest gold and copper mines in the remote Indonesian province of Papua.
Union leaders said production had been paralysed at the Grasberg mine, which is run by US firm Freeport-McMoran.
The workers want at least a five-fold increase in their current salary of about $3 (£1.90) an hour.
Analysts say a previous stoppage in July was a factor in raising copper prices around the world.
That strike, which lasted eight days, led to negotiations, but the union says the pay rise being offered - a reported 22% increase within two years - is not enough.
Fair solution
"There is no activity at the mill, the underground mine, the open pit mine except for maintenance. Mining activities have been completely paralysed. This goes for the port as well," union spokesman Juli Parorrongan was quoted by Reuters as saying.
The workers want a salary increase to globally competitive levels of between $17.50 and $43 an hour, he said.
Freeport Indonesia said it was "disappointed" by the workers' decision to strike, and a spokesman said the company hoped to continue talks to try to find a fair and appropriate solution.
The strike comes a day after a walk-out by workers at Freeport's Peru copper mine over better pay and benefits.
Rights groups have often accused Freeport of stripping Papua of its rich natural resources without returning anything to the local community.
But the company maintains that it is one of the largest employers in Papua, and without the jobs the Grasberg mine provides, many Papuans would be far worse off.
The mine has been the focal point of violent protests in the past.