Axe attack in Chinese city of Gongyi kills six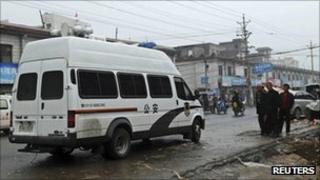 A man armed with an axe has killed two young girls and four adults in a Chinese city, media reports say.
The attack happened early on Wednesday on a street near a kindergarten in Gongyi city, Henan province.
A 30-year-old local farmer, who is suspected of being mentally ill, has been detained, officials said.
The incident is the latest in a spate of similar attacks across China, several of which have targeted schools and young children.
One local media report said that the group in Gyongi had been taking their children to nursery school when the attack happened.
Four people died at the scene and two more later in hospital, local officials said in a statement.
Suspect Wang Hongbin "has a history of mental health illness", it said.
Social change
In 2010 there were a series of attacks in which lone individuals broke into Chinese schools to attack students.
In one attack in March 2010 in the city of Ninping, community doctor Zheng Minsheng stabbed eight young children to death. He was executed for the crime one month later.
Two months later, seven children and two adults were hacked to death at a kindergarten in Hanzhong city by an attacker who later killed himself.
Last month eight children were hurt when an employee at a child-care centre for migrant workers in Shanghai slashed them with a knife.
The attacks have triggered calls for heightened security at schools and kindergartens, and sparked debate over what caused them.
The BBC's Damian Grammaticas, in Beijing, says they have focussed attention on the growing social stresses in a society that is changing fast as it pursues rapid economic growth, and on the serious lack of care for those with mental health problems in China.
Two years ago a study published in the journal The Lancet estimated that around 17% of Chinese adults, 173m people, may suffer from mental disorders.
Yet fewer than one in ten had ever sought treatment and even for those who had, there were almost no free facilities to treat them.
Last year China's Premier Wen Jiabao said the attacks had deep-seated causes including social conflicts that China must address.
And the government ordered Chinese media to limit reporting of the school killings amid fears some may have been copycat attacks, our correspondent adds.