Australian PM Julia Gillard presents carbon tax bill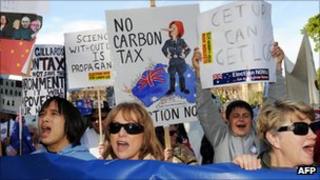 Australian Prime Minister Julia Gillard has presented her bill for a controversial carbon tax to parliament.
The legislation would force about 500 of the biggest polluters to pay for each tonne of carbon dioxide they emit.
The tax is central to the government's strategy to combat climate change, but the opposition say it will cause job losses and raise the cost of living.
Thousands of Australians have protested against the bill, accusing Ms Gillard of lying before last year's election.
Ms Gillard made a pledge during last year's federal election not to introduce a carbon tax.
The proposed tax was drawn up after Ms Gillard failed to win an overall majority in parliament at the polls and had to rely on the support of the Australian Greens.
The bills will undergo a month of consideration before a final vote on 12 October.
Cheers and howls
Addressing the House of Representatives, Ms Gillard said her task and that of parliament was to lead the country through a world undergoing change.
"The jobs of the future are clean energy jobs. Employment is projected to grow strongly with a carbon price," she said, adding that 1.6 million jobs would be created in the next eight years.
"Today we move from words to deeds. This parliament is going to get this done," she said, to cheers and howls in parliament.
Australia's 500 heaviest polluters will pay A$23 (£15; $24) for each tonne of carbon emissions, and households will be compensated through tax cuts or welfare increases for any increased costs.
It will be introduced on 1 July next year, and will then evolve into an emissions trading scheme three years later.
Analysts say no issue in Australian politics is generating more passion right now than climate change.
Supporters of the carbon scheme believe a country that is one of the world's worst-per-capita emitters of greenhouse gases is finally on the road to environmental salvation.
However, thousands of people have protested at rallies across the nation against the levy. Many believe it will wreck Australia's coal-dependent economy, drive up the cost of living for families and force thousands out of work.
The coalition has vowed to oppose the legislation, although with support from the key independents and the Greens the 18 carbon bills are expected to be passed.
The conservative opposition leader has promised to ditch the tax if he wins office.
Tony Abbott said on Tuesday that the government had "no mandate" to "ram the bill through".
"It's never disruptive to get rid of a bad tax. It's always advantageous to reduce business costs. [Manufacturers] don't want this tax, and if they get it they will want to be rid of it as quickly as they possibly can," he told the ABC.