Burmese political satirists return home from exile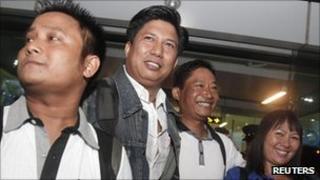 A group of prominent Burmese satirists has flown back to Burma from self-imposed exile in Thailand.
Three comedians and a dancer flew from Chiang Mai to Rangoon weeks after Burma's new civilian president urged exiles to come home.
One of them said there were signs that Burma's military-backed government was taking steps towards democracy.
President Thein Sein's appeal has divided exiles, some of whom point out that he offered no amnesty.
The performance troupe, Thee Lay Thee, became well known across Burma for daring shows and videos in which it joked and performed satirical skits about the military leadership.
A performance in Rangoon in late 2007 poked fun at the authorities, just months after the security forces put down renewed anti-government protests.
Weeks later, the group went on an overseas tour and decided not to come back.
Their founder, the comedian Zarganar, who stayed in Burma, was jailed in 2008 and is now serving a 35-year prison-sentence.
"Steps towards democracy"
Thee Lay Thee continued to perform in exile, mostly in Thailand which they made their base.
But since their departure Burma has changed.
The democracy leader Aung San Suu Kyi was released from years of detention in November 2010, and a nominally-civilian government, backed by the military, took power this year.
"We like the fact that the new government is taking steps towards democracy," Thee Lay Thee's manager, also a comedian who goes by the stage-name of Godzilla, told the BBC Burmese service.
"That's why we decided to cooperate with it, and contribute with the knowledge we have."
Divided opinion
Similar comments by the comedian are reported in the online version of the Burmese weekly news magazine "The Voice" in its edition dated 12th September.
But President Thein Sein's appeal to Burmese last month to come home and help develop the country has divided opinion among tens of thousands who have fled abroad since the 1988 uprising.
The president said even those who had committed past offences would be welcome - but there has been no amnesty, and some exiles doubt that the government is serious about change.
A veteran journalist, Sein Kyaw Hlaing, was reported to have been detained for questioning after accepting an offer to return.
Burma has resisted international pressure to free some 2,000 political prisoners it is believed to be holding.