Language tests for Kyrgyz presidential runners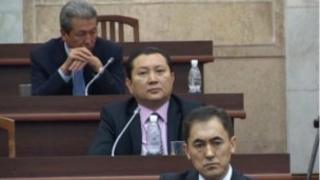 Candidates who want to contest the forthcoming presidential elections in Kyrgyzstan are undergoing a public exam to test their ability to speak the state language.
In front of live TV cameras, the candidates must pass a public assessment of their writing and reading skills.
Speaking Kyrgyz has been a pre-requisite for those seeking the highest office since independence.
Not everybody does, as some of the older politicians in particular have been educated in Russian.
In the main hall in parliament, a language commission made up of leading academics hands out the test papers to five contestants at a time.
The test comes in three parts. First candidates are asked to write a summary of their presidential programme.
But it is not their political vision that is facing scrutiny. More than five mistakes in grammar or spelling, and they are out of the race.
In the second part, the hopefuls are required to explain their programme to the examiners, speaking freely.
One candidate, Seitek Baigutiev, presented his election programme in rhyme form.
"Is there any land better than the land of the Ala Too mountains," he said. "Who has the right to sell it and give it away?"
The commission was not impressed and failed him.
The third part is a reading from a published work - with the potential for public embarrassment.
The leader of the Green party, Erkin Bulekbayev, stumbled his way through the presentation. He too failed.
There was more success for one of the leading candidates in the race, Adakhan Madumarov, the leader of the Butun Kyrgyzstan party and a former top official.
But then he is a former television presenter and presumably felt at home in front of the rolling cameras.
Field narrowing
The exams are expected to cut down the long list of registered candidates, which initially stood at 83.
There are more hurdles to clear, including the collection of 30,000 signatures and a deposit of 100,000 soms ($2,217, £1,388).
By the time of the election on 31 October, the number is expected to be around 20.
The poll will be crucial for the small Central Asian country. It is the first presidential election under a new constitution which limits the powers of the head of state.
It also follows a mass uprising that ousted the president last year, and serious ethnic violence in the south of the country which killed hundreds and left communities traumatised and divided.