North Korea leader Kim Jong-il appears with Kim Jong-un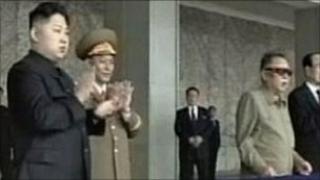 North Korea's leader Kim Jong-il has appeared at national celebrations with his son and heir apparent Kim Jong-un.
The rare joint appearance underlines what observers say is a planned third generation of dynastic rule.
State TV showed the two applauding from a reviewing stand as military hardware rumbled by to mark the 63rd anniversary of North Korea's founding.
Kim Jong-un is already a four-star general and vice-chairman of the Communist Party's military commission.
Believed to be in his late 20s, he made his first public appearance last October at a military parade alongside his father amid speculation that his father's poor health had prompted the succession process.
On Friday, Kim Jong-un again stood with his father, looking out from a balcony at the military parades and cheering crowds in Pyongyang's central square.
Below, crowds waved pink plastic flowers and cheered at images of the youngest Kim's father and grandfather, so far the only leaders North Korea has had since the state's founding in 1948.
Military hardware was rolled out to emphasise the country's strength and self-sufficiency - it is how North Korea likes to present itself, says the BBC's Lucy Williamson in Seoul.
But away from the celebrations many areas are facing food shortages and the country's hunt for foreign currency is becoming ever more public, our correspondent says.
The World Food Programme (WFP) estimates six million North Koreans are suffering from food shortages.
North Korea has pleaded for food aid this year blaming bad weather and the impact of international sanctions imposed over its nuclear activities.
Russia, the EU and UN organisations have provided assistance but South Korea and the US have so far refused food aid, granting only emergency aid.
Seoul says the North must make clear moves towards ending its nuclear programme before it can consider resuming large-scale aid.
In 2009, Pyongyang walked out of six-party talks with South Korea, the US, Japan, China and Russia, and conducted its second nuclear test soon after.