China rights activist Wang Lihong jailed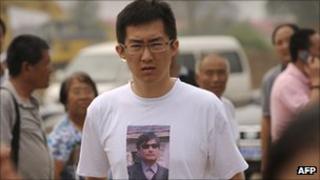 A Chinese rights activist has been sentenced to nine months in prison for "stirring up trouble".
Wang Lihong was charged after attending a demonstration last year at the trial of three other activists.
She was detained in March after the government launched a crackdown on dissent.
In prosecuting the 55-year-old, the Chinese authorities have shown how little dissent they are willing to accept in society.
A nine-month sentence could be seen as relatively light, as the maximum prison term for this charge is five years.
But her son, Qi Jianxiang, told the BBC after the sentencing that he was still angry.
He said his mother had been merely fighting for other people's legal rights - and there is nothing wrong with that.
"We think it is unfair because she is not guilty," said Mr Qi, who was in court to hear the sentence.
'Profound' changes
Wang Lihong's crime was to take part in a protest outside a courthouse in Fujian province where three other activists were on trial.
China says that amounted to stirring up trouble.
The 55-year-old maintains she is innocent - and told the judges so at this hearing in Beijing.
"That's your understanding," one apparently answered back, according to her son. Despite that, the activist intends to appeal against the conviction.
Wang Lihong, who is retired, started helping people with their own grievances several years ago.
She was detained during a round-up of activists, dissidents and lawyers earlier this year.
The government apparently thought the Arab Spring might inspire similar protests in China. That never happened - but officials, it seems, did not want to take any chances.
Mr Qi managed to speak to his mother before she was taken away. "She told me to say 'hello' to the internet," he said.
The son said the comment was a reference to how the internet is changing the way people get information in China, a development that is bringing "deep and profound" changes to society.