New Japan PM visits crippled Fukushima nuclear plant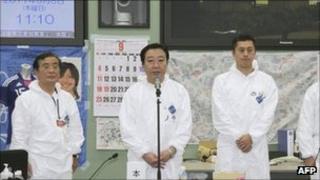 Yoshihiko Noda has made his first visit as Japan's new prime minister to the crippled Fukushima Daiichi nuclear plant, almost six months after the devastating earthquake and tsunami.
Mr Noda, who took office last week, met workers who have been battling to stabilise the plant.
The new leader, who has promised to speed up earthquake reconstruction work, thanked them for their efforts.
Engineers are working to bring the plant to a cold shutdown by January.
Early on Thursday Mr Noda visited the sports facility where emergency workers have been based since the disaster, before making his way to the plant.
He expressed "heartfelt gratitude" to both the workers and troops who have been sent to the area.
"The world is hoping for this accident to be brought under control. This is our first and foremost and biggest issue and you are key to whether we can overcome this," he told workers at the plant.
Decontamination
The tsunami knocked out cooling systems to the reactors, leading to blasts at four of them. Two others were shut down at the time.
Workers are now pumping water into both reactors and fuel ponds to keep them cool, and have also injected nitrogen into three reactors to prevent further explosions.
They are also dealing with an accumulation of highly contaminated waste water in three of the reactor buildings.
About 80,000 people have been evacuated from a 20km (13 mile) radius around the plant. Officials have warned that some areas may be uninhabitable for years because of radiation.
Mr Noda later held talks with Fukushima Governor Yuhei Sato and pledged funding for decontaminating areas with high radiation, local media reported.
A total of 15,774 people are now known to have died in the earthquake and tsunami, with another 4,227 still missing. Across the north-east, more than 115,000 buildings were completely destroyed.
Mr Noda's predecessor, Naoto Kan, resigned amid criticism of his handling of the aftermath of the disaster.
To see the enhanced content on this page, you need to have JavaScript enabled and
Adobe Flash
installed.