Philippine 'running priest' takes on corruption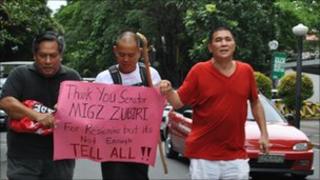 The Philippines has got more than its fair share of problems - poverty, corruption, environmental degradation, political tensions - and one man has taken it upon himself to cast light on all of them.
Father Robert Reyes is a Catholic priest, but he is better known for putting on his running shoes and jogging around the country promoting different causes.
"People don't know my name anymore," Father Reyes says, smiling. "They see me and say: 'That's the running priest'."
It all began in 1995, when he decided to do something special to mark the centennial of the Philippine revolution against Spain.
"I wanted to do something unique that will effectively communicate the message and tell everyone about the need for an ongoing revolution.
"This funny suggestion just came to my head," he says. "Why don't I run across the country?"
So that is exactly what Father Reyes did. Three years later, on the exact day of the Philippines' liberation from Spanish rule, he achieved his goal.
He did not stay still for long, though. "I said 'This is end of my running days.' But in a few days I was running again, because people were asking me to run with them and for them, for their causes."
Sixteen years and several thousand miles later, despite being jailed several times for his activities and even losing his parish, he is still going strong.
Friend to justice
On a typical sunny Manila morning, Father Reyes has come to visit Manila's Department of Justice before he starts his latest run.
Standing in the corridor in his jogging clothes, he is easy to spot among the smartly dressed ministers and their assistants.
They all seem to know him well. "I'm now treated as a friend of the Department of Justice. I come here very often," he says.
Despite the thorough security check which other visitors have to go through at the gate, he is allowed straight inside, carrying a large stick - which was given to him by one of the many people he has helped, a woman whose son has disappeared.
This time, he is here to hand in a petition highlighting alleged political corruption.
A senator has recently resigned amid evidence that he was only elected because the vote was rigged.
The senator denies any wrongdoing but the priest wants him to become a whistleblower for what went on during the previous government's administration.
Father Reyes hands in a typed letter, then - on a spare table in the corridor - takes out some felt-tip pens and a large piece of coloured paper and constructs a banner with the message: 'Thank you Senator Migz Zubiri for resigning, but it is not enough. Tell all!'
With that he leaves the office, holds his banner aloft to address the waiting media and sets off down the road, waving at passing motorists, who honk their horns in recognition.
Even some passing policemen encourage him on his way.
Sedition and seduction
It has not always been like this though. Father Reyes has frequently been in trouble with the law, and several times he has ended up in jail.
"A few presidents were my enemies and if the president wants you behind bars, you land behind bars. During the term of the last president, I was imprisoned twice and had five cases filed against me," he says.
"They're all political cases like rebellion, sedition, libel. What is seditious about my running?"
Then a broad smile comes over his face. Maybe my legs are seditious, he says.
"We make a joke [that] it's not sedition but seduction. I should be in prison for seducing people to do things for their country!"
With comments like that, it is obvious that Father Reyes is no ordinary priest - and over the years he has come into conflict with members of Catholic hierarchy.
"Churches are churches. They put on a front of propriety, piety, holiness. It is easier for a priest to stay indoors in his little church," he says.
"When it was 2006, time for our reshuffling, my bishop said he didn't like what I was doing.
"He asked if I wanted a parish, and I said yes of course. Then he told me: 'I will only give you an assignment if you keep quiet, stop running'. But there are things I just can't keep quiet about."
So Father Reyes did not get a parish, which meant he also lost his income.
He now relies on donations - and he says that God somehow always makes sure he gets enough to survive and keep running.
Man of the cloth
He certainly has plenty of supporters. "I talk to a lot of people who tell me that, thanks to my efforts, they think there is hope for the country - because there is one crazy priest who won't say: 'I give up'."
A bit breathless, but still smiling, Father Reyes arrives at the end of his anti-corruption run. The finishing point is the Commission of Elections, where once again he is surrounded by media asking questions about the run and Senator Zubiri's resignation.
Inside the building, some plastic chairs have been set up for an impromptu service.
Father Reyes disappears behind a pillar, dons a long white robe, and re-emerges to take charge of the mass.
It is something he does at the end of every run - and a reminder in this staunchly Catholic country that as well as being an activist, he is also a man of the cloth.
But even in his official vestments, Father Reyes still cannot help discussing his causes.
The topic of the sermon is no surprise - corruption and the resignation of Senator Migz Zubiri.
Father Reyes was speaking to Outlook from the BBC World Service. For more extraordinary personal stories listen to the programme via iPlayer or download the podcast.