Thailand man accused of Facebook 'insult' to monarchy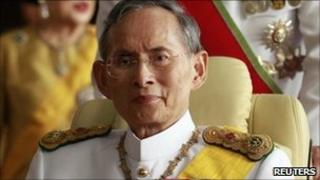 Police in Thailand have arrested a man on charges of insulting the monarchy on Facebook.
Surapak Puchaieseng is accused of posting images and messages believed to be insulting to the royal family.
Thailand's lese-majeste law prohibits any criticism of the monarchy. Offences are punishable by up to 15 years in prison.
This case is thought to be the first under Prime Minister Yingluck Shinawatra's new government.
The 40-year-old computer programmer says he is innocent, and denies all allegations of insulting the monarchy. He is now being held in a Bangkok jail.
In the last few years the number of cases of lese-majeste in Thailand has soared.
The law has been criticised by human rights groups who say it has been used by officials to limit freedom of expression.
The BBC's Karishma Vaswani, in Bangkok, says that there had been hopes that a change of government would put a stop to what many say is an abuse of the law.
It was first introduced in Thailand the early 20th Century, and covers anyone who "defames, insults or threatens the king, the queen, the heir to the throne or the regent".
Any Thai citizen can make a complaint under the law against any Thai or foreign citizen in Thailand. Once the complaint has been made, the police are duty bound to investigate.
Analysts say it is rare that once the process of lese-majeste has started a case is dismissed, our correspondent adds.