South Korea 'in missile deal to fortify border islands'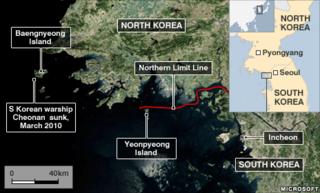 South Korea is to buy precision-guided missiles from Israel to strengthen defences on islands vulnerable to attacks from North Korea, reports say.
About 50 missiles would be deployed on two islands near the border with North Korea, said Yonhap news agency.
The missiles, which use GPS technology, could be used to target North Korean artillery hidden in caves.
Last year, four South Koreans were killed when North Korea fired artillery at one of the islands.
Two civilians and two military personnel died in November's attack on Yeonpyeong Island, which lies in the Yellow Sea west of the Korean Peninsula close to the disputed maritime border.
North Korea said the attack was provoked by South Korean military exercises.
The other island to be fortified is Baengnyeong, further to the west and close to where a South Korean warship sank with the loss of 46 lives in March 2010.
North Korea has been blamed for sinking the ship but denies any role in the incident.
The two countries technically remain at war following the Korean War of 1950-53.
The South Korean defence establishment faced criticism from the public in the wake of the Yeonpyeong shelling that it had been too soft and too slow in its response.
It has since increased troop numbers on the two border islands.
The missiles should be deployed late next year, Yonhap reported, citing a military source.