China white paper pledges peaceful rise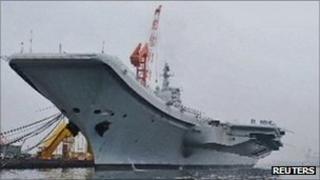 China's government has released a policy document that lays out its vision for the country's future.
It says it wants to be a rich, strong nation at peace with other countries.
China will not repeat the mistakes of other great powers who sought to dominate other nations, the white paper says.
But the document's description of China and the world sometimes seems at odds with reality.
This is a lengthy document, running to nearly 10,000 words, but its main point is summed up in the three-word title, China's Peaceful Development.
The country's current leaders see the nation getting more powerful all the time, mainly brought about by its opening up to the outside world three decades ago.
"[We want to] build China into a rich, strong, democratic, civilised, harmonious and modern socialist country by the 100th anniversary of the People's Republic of China in the mid-21st century," it says.
But it adds that no one needs fear this rise.
China will not repeat the mistakes of others who, it says in rather florid language, plunged mankind into the abyss of two world wars.
"China's peaceful development has broken away from the traditional pattern where a rising power was bound to seek hegemony," reads the document, released by the Information Office of the State Council, China's top government body.
Territorial tensions
The Beijing government says it wants more multi-national co-operation, particularly through the United Nations.
This is an expansive vision of how China sees itself in the world over the coming decades, although there are few specific proposals.
There is also little reference to some of the policies pursued by Beijing that leave it open to criticism.
The white paper says Chinese people - on the whole - are living decent lives.
It does not mention that those who disagree with that view or offer an alternative way of living are often persecuted.
Last year's Nobel Peace Prize winner Liu Xiaobo is currently serving an 11-year prison sentence for helping draft a manifesto calling for political change.
The document also talks about getting on well with neighbours and resolving differences through negotiation.
It specifically mentions this in relation to Beijing's disputes with several countries over the position of maritime borders.
Recently though, at least two countries, Vietnam and the Philippines, have complained about China's actions in the disputed waters of the South China Sea.