Hong Kong news chief quits over 'Jiang dead' report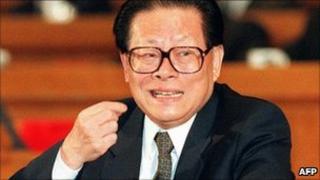 A news chief at a Hong Kong television station has resigned after it reported mistakenly that former Chinese President Jiang Zemin had died.
Leung Ka-wing of Asia Television (ATV) said he was taking responsibility as he had failed to stop the report being broadcast in early July.
It was aired days after Mr Jiang, 85, had failed to appear at events marking the 90th anniversary of the Communist Party, sparking rumours he had died.
Mr Jiang was president until 2003.
It was late evening on 6 July when ATV news led its bulletin with the death of the former Chinese leader.
While it was known that Mr Jiang was unwell in hospital, and there had been rumours of his demise, ATV was the only station to run an obituary.
The following day, Chinese state media criticised the reports as "pure rumour".
"Why do I have to take full responsibility? It is because I failed to stop that news report from being aired despite my all-out efforts," Mr Leung, the vice-president of ATV's news department, told ATV.
A second executive at the station is also reported to have resigned.
Mr Jiang rose to power after the 1989 Tiananmen Square protests.
He led China through the 1990s, when he helped bolster the nation's international image and presided over an economic boom.
He transferred his power and positions to President Hu Jintao between 2002 and 2004.