Typhoon Talas: Japan searches for missing dozens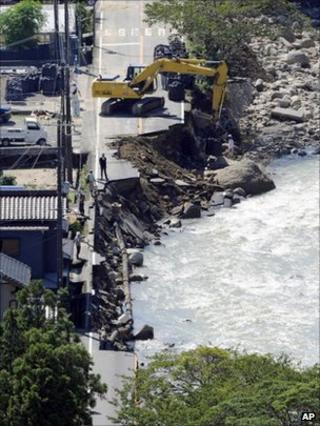 Japanese rescue teams are continuing the search for dozens of people missing after Typhoon Talas ripped through the west of the country.
Water and food are to be brought to remote villages by helicopter, with some communities cut off by landslides.
At least 37 people have been killed by the storm, which made landfall on Shikoku island on Saturday, triggering floods.
More than 50 people are believed to be missing, according to officials.
Japan is hit by several typhoons each year, but Talas is the most destructive since 2004.
No access
The typhoon swept through the region on Sunday, dumping heavy rain and bringing winds of up to 108km/h (68mph).
Entire villages have been flooded, with bridges and houses destroyed.
The BBC's Roland Buerk in Tokyo says much of the population of the areas hit by the typhoon is elderly, making the task of bringing relief supplies much more urgent.
In Nara prefecture local officials have prepared a ton of water and more than 3,000 rice meals to be airlifted by helicopter to the village of Totsukawa, where 12 people are dead or missing.
In nearby Wakayama prefecture, the worst-hit area, 26 remote communities have been left isolated by landslides.
Electricity and mains water have been cut off, and deliverymen who usually supply food cannot get through.
Fifty-four people remain missing, according to the Fire and Disaster Management Agency. Some 3,000 are still sheltering in evacuation centres in the wake of the storm.
The government has set up an emergency task force to co-ordinate the rescue effort. New Prime Minister Yoshihiko Noda, who was sworn in on Friday, has promised rescue efforts will continue.