Australia PM Julia Gillard vows not to resign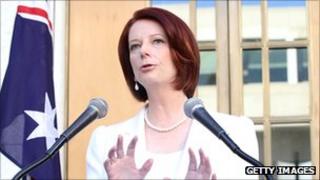 Australian PM Julia Gillard has said she has no intention of stepping down amid reports of unrest in her governing Labor Party about her leadership.
Ms Gillard suffered a major blow this week when the High Court ruled that an asylum deal with Malaysia was unlawful.
She told Australian media: "I'm not going anywhere."
Several names have been touted as possible replacements, including former PM Kevin Rudd, whom she ousted in June last year ahead of a general election.
Ms Gillard made a series of media appearances on Friday after opinion polls showed her rating had fallen below that of Mr Rudd at the time he was deposed.
"I'm not going anywhere. I have too much to do," said Ms Gillard.
"I'm the best person to do this job, and I'll continue to do it. And what this job is about is leading the nation to a better future. I've got a clear vision of that future. We are delivering important policies."
'Fantastic leader'
Ms Gillard said she had not been approached by ruling MPs asking her to step down.
Her government is tackling a number of controversial policies, including proposed taxes on carbon emissions and mining profits, as well as a costly national broadband scheme.
It also has a fragile hold on power, relying on the support of a Green MP and three independents.
Australian newspapers cited some unnamed Labor sources as suggesting Mr Rudd could make a comeback.
Ms Gillard led a coup that removed him, before calling national elections in August 2010.
Defence Minister Stephen Smith was another name in the frame.
The Herald Sun quoted senior government figures as saying Gillard had "lost her authority".
But some key allies came out in support of the prime minister.
Trade Minister Craig Emerson said she was a "fantastic leader".
Ms Gillard suffered a major embarrassment when the High Court ruled that her plan to send 800 asylum-seekers to Malaysia in return for 4,000 refugees over four years was unlawful.
The plan was supposed to send a tough message to boat people that they would not be processed in Australia.
The court ruled Malaysia did not offer adequate protection for refugees.
Ms Gillard called the ruling "deeply disappointing" and said the court had "rewritten the Migration Act".