Winners and losers of Macau's gambling boom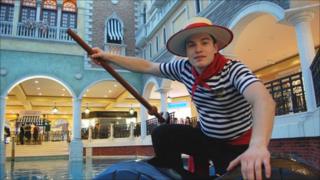 It is early morning and the sun is struggling to break through the haze enveloping Macau. Outside, people travel to work.
But inside the gambling hall of The Venetian, an Italian-themed casino, it is difficult to tell the time - there are no windows.
Hundreds of gamblers bet on a bewildering range of games, most of them using dice or cards. Baccarat is a local favourite.
Excited faces - and the occasional glum one - watch the tables.
Gambling has been legal in Macau for more than 150 years, but the former Portuguese colony has transformed itself over the last decade.
A decision to expand the gambling industry has been wildly successful. It looks set to earn five times more than Las Vegas this year.
Macau increased the number of gambling licences from one to six in 2002.
There was a frenzy of building, as the world's biggest gambling companies rushed to complete giant gaming complexes.
Many followed the Las Vegas model. A company called Sands built The Venetian, a replica of its sister casino in the US gambling capital - only twice as big.
One conference hall is the size of a football field.
It even has the same pretend Venetian canals. Gondolas ply the water, their gondoliers serenade the guests.
'Back and forth'
Macau is the only place in the whole of China where it is legal to gamble in a casino, providing the city with an enviable monopoly.
Most punters come from mainland China. Already this year, about 10m have travelled across the border - by car, boat, air and even on foot.
"I've been many times - it's difficult to say how many," said Mr Quan, who only wanted to give his surname, as he loitered outside a casino.
"If I win money, I take it back home. If I lose, I go back to get some more - back and forth, back and forth," added the gambler, who lives across the border in Guangzhou. He had just lost.
Gamblers spent 125b Macau Patacas ($15.6b, £9.6b) in the first six months of this year. In the private VIP rooms, bets of hundreds of thousands of dollars are placed on single hands of cards.
The gambling industry is pivotal to the economic success of Macau.
Gaming revenue makes up nearly half of the income for this special administrative region. One in five workers is employed in the casinos.
"The gambling industry is the only industry in Macau. Gambling revenue is the only revenue in Macau," said Peter Tcheong, of the Macau Polytechnic Institute.
The institute runs a series of courses for students wanting to work in the industry. It has its own mock-up casino, complete with slot machines.
'Too expensive'
But the gambling boom also has its downside. One academic said the "honeymoon period", when there were only benefits, was now over.
Vast amounts of money have flowed into the economy, creating an income gap and inflation. Some local residents are unable to afford spiralling rents.
Sitting outside the Grand Lisboa - an extravagantly shaped casino that is difficult to describe - was Shu Qingxin, a former casino dealer who is now unemployed.
She has had to move to the Chinese city of Zhuhai - visible across the border - because she cannot afford to pay rent in Macau.
"Macau's done very well out of gambling, but the government ought to do something to bring down the cost of housing," she said.
There are other problems too. Perhaps predictably, Macau has seen a rise in the number of people addicted to gambling over the last few years.
Addiction fears
Seiko Lee is in charge of the SKH Gambling Counselling and Family Wellness Centre, set up just last year to help people with betting problems.
She said young people were vulnerable, particularly those who work in casinos and see how much money can be won.
The counsellor said she recently took a call from a secondary school, which had uncovered a well-established gambling ring and wanted help.
"In the past there was a myth that people from Macau wouldn't gamble. But we've found local people as well as visitors go to the casinos," she said.
One young gambler who has benefited from counselling - he did not want to be named - said he used to visit casinos nearly every day.
At the height of his addiction he was betting away more than half of his wages.
"When I wasn't at the casino I used to do sports betting on the internet from home," said the tour guide, who still occasionally has to go inside a casino as part of his job.
So there are problems with gambling in Macau, but probably not enough to stop the government from developing the industry further.
China's economy continues to grow, supplying Macau with evermore eager gamblers willing to spend their money. Betting on them is a wager Macau cannot afford to miss out on.