China general reveals spy cases in web footage
By Michael Bristow
BBC News, Beijing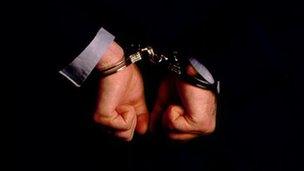 Video footage showing a Chinese general talking about sensitive spy cases has appeared on the internet.
In the video, Maj Gen Jin Yinan complains that there are many Communist Party members who have "turned rotten" and sold secrets to foreign countries.
China has not commented on the video, which is an embarrassing incident for a country that does not like to talk about spy cases.
It shows Gen Jin giving a lecture at Beijing's National Defence University.
With a tea cup by his side, the senior officer lifts the lid on a number of recent spy cases.
He talks about a Chinese ambassador in Seoul who passed on sensitive material to the South Koreans.
The authorities caught the ambassador but charged him with economic crimes because they were too embarrassed to reveal his real wrong-doing, says Gen Jin.
He goes on to talk about another senior official who spied - just as his father had done a generation before - although the father had spied for the Communists, not against them.
The audience were students at the university and the lecture was apparently given as a warning to discourage traitors.
China's leaders do not usually talk about spy cases, and they will probably be furious these details have now leaked out.