New Zealand Press Association closes after 131 years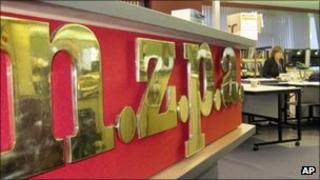 The New Zealand Press Association has closed, ending 131 years of supplying news to the country's print media.
The company published its last story at 1824 local time (0624GMT), and a "wake" was held, news editor Kevin Norquay told the BBC.
The NZPA struggled in recent years as media ownership and distribution in New Zealand changed.
Forty journalists will lose their jobs with the closure of offices in Wellington, Auckland and Sydney.
In news agency style, the initials of all remaining journalists were added to the last story published on Wednesday - a sign-off marking the hundreds of thousands of stories published by the NZPA over the years - Mr Norquay said.
He said several speeches were made, some by journalists who started working there more than 50 years ago.
"Many had great difficulty getting to the end of their speeches," he said.
NZPA was set up in 1879 and was New Zealand's only independent news agency.
It was owned by New Zealand's daily newspaper publishers and supplied the 26 daily newspapers with a 24-hour national and international news service and news images.
All the newspapers paid a subscription, based on their circulation, to share news, and it meant that even a small regional paper with few staff could carry news of national interest if it happened at the other end of the country.
But NZPA's future became uncertain when Australian media company Fairfax decided not to continue subscriptions.
Australian media companies Fairfax and APN now own all but five of New Zealand's daily newspapers.
Fairfax owns the capital's Dominion Post, The Press in Christchurch and The Sunday Star-Times among other titles, while APN owns the country's largest daily, the New Zealand Herald, and a handful of regional daily publications.
Both are increasing their staffing to provide national news for their own publications, which had previously relied on NZPA. APN will also join with the five independent papers to provide an internal newswire.
Greg Tourelle, the deputy editor who worked for NZPA for 15 years, told the BBC: "NZPA was owned by rival Australian companies - which has sometimes been difficult for us, but the main owners are setting up their own agencies so we're going to have a very competitive landscape."
'Sad atmosphere'
AAP, the Australian news agency, is also increasing its staffing from one to nine in New Zealand to continue to provide New Zealand news for the Australian market.
Mr Tourelle said about eight staff members had yet to find new jobs. Like many of his ex-colleagues, he has found employment with the companies who played a role in the demise of NZPA, becoming content editor for Fairfax.
"When the announcement was made three months ago, it was greeted with a mixture of shock and sadness. We had been under a cloud for a long time, and we usually bounced back, but this time we haven't," he said.
"There will still be sadness when the last story is transmitted at 6pm NZ time (0700BST) on Wednesday, but we intend to farewell the agency with traditional journalistic gusto, as you'd expect for a news organisation that has given 131 years' service."
In its heyday, NZPA had offices in London, Sydney, Hong Kong, and Christchurch. It sent staff on major sporting tours with national teams, had a permanent team of journalists at parliament and a dedicated business desk, as well as supplying information as diverse as stock exchange data and horse racing results.
"It's sad that the country is losing its only independent print agency," Mr Tourelle said.
Executive editor of Fairfax Paul Thompson told AP: "NZPA was a key part of the industry for decades and a fantastic servant. But the situation changed."