Singapore presidential election won by Tony Tan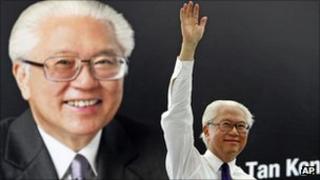 Singapore's former deputy prime minister Tony Tan has won the country's presidential election by a narrow margin.
The result was announced after a recount between Tony Tan and fellow front-runner Tan Cheng Bock.
Tony Tan, 71, was seen as the preferred candidate of the governing People's Action Party, which has run Singapore since independence.
Singapore's presidency is a largely ceremonial position.
The election was the first of its kind for 18 years.
Election officials said Tony Tan won by just 7,269 votes out of just over two million valid votes cast in Saturday's four-way race.
The Elections Department ordered a recount after the first tally showed the two front-runners were less than two percentage points apart.
The four candidates all shared the same surname, Tan.
Tony Tan's slim margin is seen as a blow for Prime Minister Lee Hsien Loong who had backed him in the run-up to the election.
In a general election three months ago, the People's Action Party won all but six seats, but the opposition made significant gains.
Voters expressed their anger over immigration, living costs and high government salaries.
Singapore - a former British colony with a Westminster-style parliamentary system - instituted the position of president in 1965 when it became a republic.
Presidential candidates run as individuals because Singapore's head of state is supposed to be non-partisan.