What if?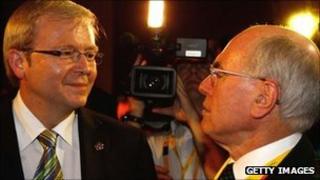 How would American history have been altered had John Kerry decided against inviting a little-known Illinois state senator to deliver a prime-time address to the Democratic convention in 2004?
Or if John McCain had studied more closely the record of an obscure governor from Alaska before inviting her to join his presidential ticket in 2008?
Had David Cameron chosen to use notes rather than to speak extemporaneously without them at the Conservative Party Conference in 2005 would he have become Tory leader? And would he have gone on to become prime minister had Gordon Brown decided to call an early election soon after replacing Tony Blair?
The "what ifs" of political history are always fun to ponder, and Australia has produced no shortage of them in recent times.
What if John Howard had decided to step down when members of his cabinet met secretly on the fringes of the APEC Summit in September 2007 and urged him to hang up his tracksuit? Kevin Rudd would still probably have gone on to win the election, but Peter Costello, Mr Howard's heir apparent, might have blunted Labor's call for generational change. What if Mr Costello had not spat the dummy quite so often over his boss's limpet-like determination to remain at The Lodge?
What if the former Labor leader Kim Beasley had not mixed up the names of Rove McManus, a television personality, and Karl Rove, George W. Bush's closest adviser - a lapse that amplified doubts about his gaffe-prone leadership? Kevin Rudd might never have mounted a challenge.
What if, on the morning after John Howard's defeat, Peter Costello had decided to seek the leadership of the Liberal party rather than to announce his withdrawal from front-line politics? Given that the global financial crisis followed a year later and that the former Treasurer was one of Australia's most economically literate politicians - he had warned of an impending financial tsunami in the run-up to the election - he might have proved a more formidable opposition leader than either Brendan Nelson, Malcolm Turnbull or Tony Abbott.
What if Malcolm Turnbull had decided to wait until the outcome of the Copenhagen summit before pledging bipartisan support for Kevin Rudd's plans for an emissions trading scheme (ETS)? Arguably he might still be Liberal leader.
And what if that global summit had produced a stronger deal? Kevin Rudd would have returned to Australia hugely emboldened and called a quick double dissolution election had the Senate continued to block the ETS. Instead, he retreated from an issue he so famously described as the great moral issue of our time, which contributed to his fall.
What if David Marr's opinion-shifting Quarterly Essay "Power Trip: The Political Journey of Kevin Rudd" been scheduled to come out, say, in October rather than June. Unquestionably, its publication at a time when Mr Rudd was struggling with the mining super-profits tax and the fall-out from the postponed ETS fuelled the mutinous mood amongst Labor insiders, many of whom had rejected Mr Rudd's personality long before David Marr started mining it for flaws.
What if a story had not been leaked to the Sydney Morning Herald detailing how Mr Rudd's staff were testing the loyalty of MPs ahead of a possible leadership spill, a move that reportedly enraged Julia Gillard so much that she finally decided to mount a coup?
Staying with leaks, would the election have turned out differently if the Rudd camp had not decided to brief against Julia Gillard? The Labor powerbrokers who made her leader - the famed faceless men - certainly thought so.
Historians will also ponder for years the what ifs of the inconclusive federal election in 2010, and what would have happened if just one of the independent MPs had changed his mind. And would the outcome have even been in doubt had Kevin Rudd still been the prime minister? My hunch is that he would have seen off the challenge from Tony Abbott, whom he had trounced in a health-care debate earlier that year.
What if Tony Abbott had not taken to calling himself the prime minister-in-waiting in the days following last year's election? Not a good look in the eyes of three of the four independent MPs he was trying to court.
And what would have happened, Julia Gillard could be forgiven for thinking, if the Health Services Union had not issued corporate credit cards?