Sex abuse claims swamp Australia defence review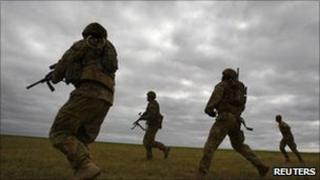 A review into sexual abuse in the Australian military has received such a high volume of complaints that it is being extended, Defence Minister Stephen Smith says.
The government asked a law firm to begin a review following a sex scandal at an Australian defence academy.
Mr Smith said investigators were dealing with more than 1,000 allegations of abuse.
The review will now report back on 30 September, one month behind schedule.
Investigations began after two cadets from the Australian Defence Force Academy were accused of secretly filming a female cadet having sex and broadcasting it on the internet.
They have now been charged in connection with the incident, which raised questions about the treatment of women within the Australian defence establishment.
Initial assessment
Six inquiries were initiated in the wake of the incident, including a review commissioned from law firm DLA Piper by the government.
"The review has received over 1,000 allegations - some from people who contacted the review directly, some referred to the review from the minister's office or the defence department," Mr Smith said in a statement.
"While the role of the DLA Piper review team is not to fully investigate allegations, it must report, based on the information provided to it, an evidence-based and reasoned initial assessment of each allegation."
Sex Discrimination Commissioner Elizabeth Broderick is also conducting a review into the treatment of women both at the academy and in the wider military.
Reviews were also ordered into the use of alcohol and social media in the military.
The scandal followed another relating to the navy.
In February, the defence department released a report chronicling what it called a culture of predatory sexual behaviour on board the naval supply ship, HMAS Success.
It revealed a fiercely tribal culture in which women sailors were treated with disdain, alcohol was seriously misused and discipline had broken down.