Fiji military cancels Methodist Church conference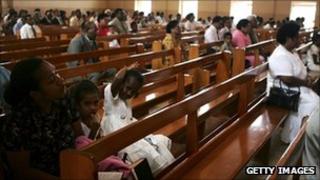 Fiji's military government has ordered the cancellation of the Methodist Church's annual conference, accusing the leadership of being too political.
Senior members of the church were summoned by the military to hear the order, reports say.
Soldiers attempted to detain 80-year-old former head of the church, Reverend Josateki Koroi, but he refused to go.
The Methodist Church - the largest in Fiji - has been forced to cancel its last three annual meetings.
Fiji's current leader is Commodore Frank Bainimarama, who took power in a bloodless coup in 2006, ousting elected leader Laisenia Qarase.
Under him the constitution has been suspended, opponents detained and media freedom restricted.
The church has been highly critical of Fiji's interim military-led regime.
Ahead of the annual conference the government demanded that political issues be avoided, and that the current church leadership did not play key roles at the event.
Senior military officials say some ministers in the church hierarchy still have not recognised the government or the prime minister.
Three leading members of the church were summoned to military barracks overnight. The military tried to detain Reverend Koroi.
"I told them, the only way to take me to camp now is bundle up my legs, tied up, and my hands, I will not go with you.
"That is the only way, you carry me to the camp or you bring your gun and shoot me and you carry my dead body to the camp to show to the commander," he told New Zealand media.