Seiji Maehara to contest Japan leadership race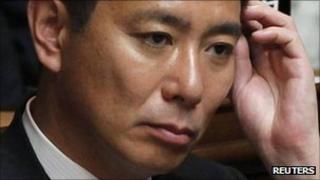 Seiji Maehara has confirmed he plans to run in his party's leadership race, making him a key contender to succeed Naoto Kan as Japan's prime minister.
Announcing his candidacy, the former foreign minister said he would unite the ruling Democratic Party of Japan.
The DPJ is expected to elect its new leader early next week.
Mr Kan is stepping down over plummeting approval ratings linked to his handling of the earthquake and tsunami aftermath.
Whoever wins the election will become Japan's sixth prime minister in five years.
Mr Maehara, 49, briefly led the DPJ in 2005 and is seen as popular with the electorate.
He resigned as Naoto Kan's foreign minister in March after receiving an illegal $3,000 (£1,810) political donation from a foreign national - an ethnic Korean living in Japan.
He is expected to face Finance Minister Yoshihiko Noda, Trade Minister Banri Kaieda and a number of others in the leadership contest.
"We must follows policies which address people's concerns and give them a feeling of security and hope," Mr Maehara said.
"Please allow me to stand at the helm of our efforts to overcome the national crisis with the help of every single one of you."
Mr Kan has said he will step down as prime minister once two key bills - on renewable energy and bond issuance - are passed by parliament, something that is due to take place this week.
He said he expected a new prime minister to be chosen by 30 August.