The scandal that could bring down Australia's government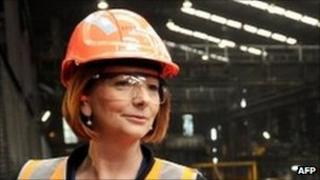 A new arrival in Australia could reasonably be forgiven for thinking that there was some kind of constitutional requirement making it mandatory for political leaders to spend at least three days each week wearing either a fluorescent orange jacket or a white hard hat.
Virtually every morning, it seems, image-makers in the gainful employ of opposition leader Tony Abbott and Prime Minister Julia Gillard conjure up some kind of unimaginative photo-opportunity, where their leaders appear brandishing a blow-torch, a spade, a butcher's knife, an on-button or some kind of piece of light industrial machinery.
As often as not, Mr Abbott is bemoaning the introduction of the carbon tax, while Ms Gillard is trying to convey the sense that her minority government is capable still of getting big and important things done. Hours later, these images appear on the evening news shows, usually accompanied by a voice-track packed with lame puns from political correspondents whose daily misfortune it is to cover this miserable spectacle.
These are the dog days of Australia's permanent campaign, a rolling partisan battle that began in the weeks after the Copenhagen climate change summit, when Mr Abbott mounted the Liberal comeback, and has gone on pretty much uninterrupted ever since.
Perhaps the only brief respite came in those weeks of uncertainty following the federal election, when the prime minister proved much more accomplished as a backroom negotiator than a front-of-house performer.
Since finalising her deal with the Greens and independents, however, the leaders have been acting as if the campaign never truly finished. For Mr Abbott especially, politics is being conducted at the Defcon 1 level. With Labor just one seat away from losing its majority, war is imminent, and he is therefore in a state of maximum readiness. Now the Liberals are beginning to think that they are on the verge of a fatal strike.
The analogy of the hour, of course, is that the conservative opposition is a heartbeat away from a parliamentary majority. And at present that heartbeat belongs to Labor MP Craig Thomson.
'Protected species'
The member for Dobell is a former national secretary of the Health Services Union, who is accused of paying for escort services and drawing out more than $A100,000 ($104,000; £63,000) in cash on the union credit card. Mr Thomson has claimed that other union officials had access to that credit card, and denies any wrongdoing. But Fairfax media claims to have obtained documents revealing that phone calls were made to two Melbourne brothels in 2006 from rooms hired in his name. Fair Work Australia, the national workplace relations tribunal which carried out an initial probe, has reopened the investigation.
Before these details emerged, Mr Thomson had mounted a defamation suit against the Sydney Morning Herald which first published the allegations. As the Herald's political editor Peter Hartcher notes in a detailed piece, that is fairly standard practice. Just as the case was about to go to court, however, the MP dropped his defamation claim. Now it has been reported that the New South Wales Labor party helped Mr Thomson with his legal bills to the tune of $A90,000. Bankruptcy disqualifies people from sitting in parliament.
Mr Thomson, who entered parliament after the 2007 election, continues to claim that the allegations are "completely untrue". "I've denied these allegations before," he said. "There was nothing there that was new at all."
Publicly at least, he also has the complete public confidence of Ms Gillard, who said he is doing a "fine job" of representing his New South Wales constituents. "I look forward to him continuing to do that job for a very long, long, long time to come." But rarely has the phrase "she would say that wouldn't she" been so applicable. She has no other choice but to back him to the hilt.
Mr Thomson holds his seat in the Central Coast of New South Wales with a majority of 5%. Given the Gillard government's deep unpopularity, the Liberals would be expected to win a by-election at a canter. If Labor loses that seat, of course, it also loses its parliamentary majority.
Mr Abbott has labelled him a "protected species as far as this prime minister is concerned".
So do not be distracted by those fluorescent safety jackets and white hard hats. The story to watch is the one that Labor least wants retold: that of a little-known MP called Craig Thomson. Inevitably and drearily, it has already been labelled the "Hookergate" scandal. But in this instance it is not so much a case of following the money as tracking the credit.