China debate over US envoy's coffee run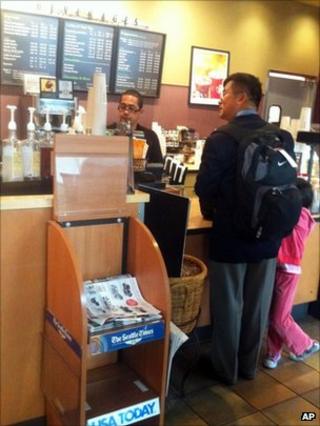 The low-key actions of two top US officials have sparked heated debate among China's netizens about the nature of public servants.
A photograph of new US Ambassador to China Gary Locke ordering coffee and carrying his own backpack generated thousands of online comments.
A visit by Vice-President Joe Biden to a small Beijing eatery fuelled debate.
Many praised the informality of the two men's actions, contrasting them with status-conscious Chinese officials.
It was Mr Locke's arrival in China that started the debate.
After being photographed at the airport in Seattle ordering coffee with his young daughter, the new ambassador arrived in Beijing at the weekend.
His family carried their own bags from the airport and were then driven away in a minivan.
Chen Weihua, writing in the China Daily, said that while to most Americans this would not be out of the ordinary, to Chinese people "the scene was so unusual it almost defied belief".
"In China even a township chief, which is not really that high up in the hierarchy, will have a chauffeur and a secretary to carry his bag," he said in an editorial headlined "Backpack makes a good impression".
'Serve the people'
The two episodes generated considerable comment on the internet, with the photo from Seattle - taken by a passing businessman - re-posted more than 40,000 times.
The tone of the debate was overwhelmingly in favour of Mr Locke's down-to-earth actions.
"American officials are to serve the people, but Chinese officials are served by the people, that's the difference," said one commentator on Sina.com, in a representative post.
"Even the head of a Chinese village would travel in more style than Locke," another comment on the same site read, adding, in a sarcastic reference to an old government policy: "I advise him to go to the Chinese countryside for two years to learn from officials there."
The debate continued when Mr Biden, who is paying a five-day official visit to China, ate noodles and dumplings at a family-run restaurant after his talks with Vice-President Xi Jinping.
Netizens reported that his bill came to $13 (£8), and compared it with the more lavish meals enjoyed by top leaders.
The debate was not all positive, with some commentators suggesting the move was part of a diplomatic strategy to make Chinese officials look bad.
And others took the opportunity to poke fun at the US.
"If American officials are so frugal, why can't the government control spending and why do they borrow so much?" one netizen asked.
But most netizens appeared in favour of the informality.
"Perhaps it is time for Chinese dignitaries to follow the example of humble Locke," Mr Chen of the China Daily concluded.